Your app can refuel now
You can now easily authorize your refueling transactions in the official tankpool24-app. Without a fuel card. Secure and convenient.
The advantages
Refuel without fuel card directly from the app
Simple operation
Available in 13 languages
Secure due to full control over users and fuel cards
Up to ten fuel cards can be assigned to each user
With the new tankpool24-connect function, you continue to enjoy all the typical tankpool24-benefits such as security features, transparency or full cost control in digital form.
By splitting company accounts, you even have the option of defining even more easily and precisely who is to refuel on which vehicle with which fuel card. You can then easily find all fuel cards in your app and individually specify which of them should be used to authorize the refueling process for each refueling transaction.
WE POWER YOUR WAY
How can I use the function?
This is very easy for you: Contact your tankpool24-partner. After consulting with you, they will create the desired users and perform the initial setup for you.
You can pass on the user data to the users who should be ready to refuel with the app in the future. Apart from a login, no further configuration is necessary in the app itself.
How does refueling by app actually work?
01

Log in to the app with your user account. You will receive your access data from your tankpool24-partner.

02

In the app's service station finder, you can see which service stations currently support the tankpool24-connect function. The existing network will be successively expanded to include additional service stations.

03

In the gas station profile you can start the refueling process by pressing the button.

04

Then you select which of the fuel cards approved for you and you would like to refuel with.

05

After selecting your fuel card, enter your milage - if required - and select one of the available columns.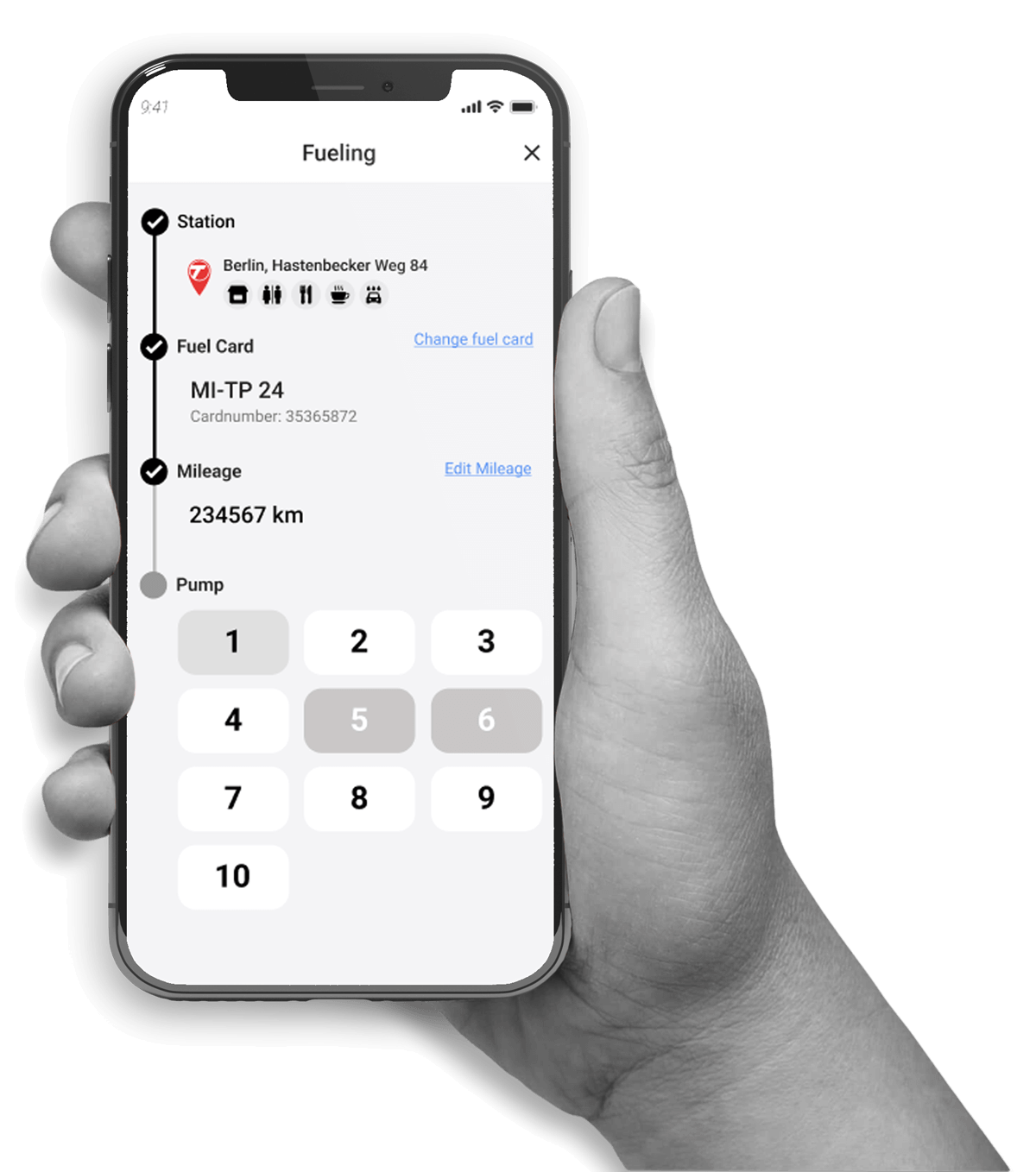 FAQ
Do you still have questions? Have a look at our FAQs, write to us or please contact your tankpool24-partner.
Refueling with the app is already possible at most tankpool24-stations in Germany. You can see whether a service station supports tankpool24-connect in the app's service station finder.
Refueling via App is only available in Germany.
The use of the app does not result in any additional costs for out tankpool24-customers.
Your tankpool24-partner will perform the initial setup for you. They will also provide you with the access data. Simply contact him for this purpose.
TANKPOOL24... PLEASE ANSWER...
We are here for you: If you have questions, want to give feedback, need help or just want to tell us something. Send us your request. We will take care of it.